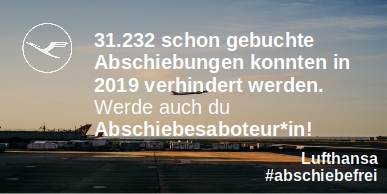 An online mass action yesterday (Monday, 27 July 2020) targeted Lufthansa for its continued collaboration with deportations. On the first day of the campaign "Lufthansa #Abschiebefrei" the Berlin group "No Border Assembly" together with more than 20 anti-racist groups all over Germany made the hashtag #Abschiebefrei trending in social media and demanded Lufthansa to refrain from deportation flights.
TAZ (27.07.2020) – Twittersturm Richtung Lufthansa https://taz.de/Abschiebungen-aus-Deutschland/!5699191/
Neues Deutschland (27.07.2020) – Hoffen auf die Lufthansa: Kampagne fordert Ende der Abschiebungen https://www.neues-deutschland.de/artikel/1139668.kampagne-gegen-abschiebungen-hoffen-auf-die-lufthansa.html
Anti-racist movements around the world with the message "Black Lives Matter" are holding companies accountable for racist practices: It is time that Lufthansa positions itself against racism and stops profiting from deportations [1]. "Our goal is that Lufthansa and its subsidiary Eurowings through public pressure stop selling seats for deportations. They have the right to refuse to sell tickets, especially if someone does not want to fly voluntarily. The business of deportations must be exposed for what it is: ruthless complicity and profit with colonial and racist violence," explains Nadija Martin, spokeswoman for the campaign..
""We see deportations as a practice that perpetuates nationalism and global inequalities created by colonialism and capitalism."
The shitstorm on social media platforms used slogans like "Every deportation is an act of racist & (neo)colonial violence. We demand from Lufthansa: become #deportation-free! #SayNoToDeportations #BlackLivesMatter" [2]. The campaign also used its first day to point out that Lufthansa is one of the main sponsors of the German national football team [3]. German football has publicly supported "Black Lives Matter" [4]. The campaign #Abschiebefrei therefore encouraged the DFB to put this into practice:
"DFB: Your sponsor is a notorious deportation profiteer. Whoever stands up for Black Lives Matter has to stand up against Lufthansa. Make your sponsor #Abschiebefrei!"
If Lufthansa would take a public stand against racism and stop selling deportation tickets, it would follow in the footsteps of the British airline Virgin Atlantics, which announced in June 2018 that it would no longer sell seats for deportations. The announcement was made in response to protests by activists of Lesbians and Gays support the Migrants and the so-called "Windrush" scandal, in which 83 people were wrongly deported [5]. Also six US airlines, including United, Delta and American Airlines, refuse to deport minors who have been separated from their families due to the border policy of US President Donald Trump [6].
Lufthansa has not yet reacted to the campaign #Abschiebefrei, but continues to claim that "deportations against the will of those affected would be rejected in principle" [7]. In 2019, 5,885 people were deported in aircrafts of Lufthansa and its subsidiary Eurowings [8]. Nadija Martin from #Abschiebefrei comments on this:
"No one is deported voluntarily. Deportations are by definition an act of violence to forcibly remove someone from Germany".
This is not the first time that Lufthansa has been the target of an online campaign due to its role in deportation flights. After the death of Aamir Ageeb through police violence during a Lufthansa deportation flight in 1999, the "Deportation Class" campaign used the concept of an online demo to take down the Lufthansa website because of mass simultaneous visits [9]. Lufthansa sued activists, but the Higher Regional Court in Frankfurt am Main declared the action legal [10].
After the first day of the #Abschiebefrei is over, the campaign does not reveal what comes next. According to Nadija Martin, "Lufthansa has profited from deportations for decades. Twenty years ago, the "Deportation Class" campaign called on them to stop. Unfortunately, Lufthansa continued to deport – and as long as Lufthansa does not give up its complicity in structural racism, it will remain a target of anti-racist protests."
Lufthansa says "SayYesToTheWorld" – We demand: #SayNoToDeportations!
Lufthansa #Abschiebefrei
[1] https://www.nytimes.com/2020/05/31/business/media/companies-marketing-black-lives-matter-george-floyd.html https://twitter.com/search?q=abschiebefrei&src=typed_query&f=live
[2] https://twitter.com/search?q=abschiebefrei&src=typed_query&f=live
[3] https://www.dfb.de/verbandsstruktur/partner-des-dfb/lufthansa/
[4] https://www.dw.com/en/bundesliga-teams-take-a-knee-to-support-black-lives-matter-movement/a-53719904
[5] https://www.theguardian.com/uk-news/2018/jun/29/virgin-airlines-no-longer-help-deport-immigrants-lgbt-windrush
[6] https://qz.com/1311588/which-us-airlines-are-not-working-with-ice/
[7] https://taz.de/Abschiebungen-aus-Deutschland/!5699191/
[8] https://www.ulla-jelpke.de/wp-content/uploads/2020/03/KA-19_17096-Abschiebungen-2019-komprimiert.pdf
[9] http://www.noborder.org/archive/www.deportation-class.com/log/en130301.html
[10] http://www.noborder.org/archive/www.deportation-class.com/lh/presse/pm010202.html