1. The number of deportations of asylum-seekers in Corona months have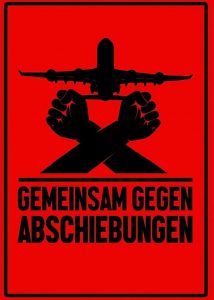 significantly increased. We have heard of confirmed news that Germany charters a whole flight to deport two people, have used helicopters to remove asylum-seekers from the land and has spent tremendous amounts of money to promote pushbacks and surveillance in marginal countries of the EU. We are all responsible for the arrest and prosecution of the people who are forcefully returned back to their countries as long as we pay tax. Just yesterday, an Iranian asylum-seeker called Saeed Noori has been detained in Hessen and is now awaiting deportation to Iran in a detention center. This deportation has been scheduled for March 11. In Iran, applying for asylum in another country is already a crime. Saeed will be treated inhumanly when he arrives Iran. No deportation is legitimate as it jeopardizes lives of people.
We believe in total freedom of movement & the right to stay for all: no borders, no deportations! Not in Germany – Not anywhere!
Cause what is happening here in Germany must be recognised as part of a bigger system of european border control.
2. Right now it seems like that the EU is punishing the asylum-seekers living in the most remote hotspots in Greece. Since Moria burnt, no significant alternative has been put in place by the responsible authorities. The human catastrophe in the Greek islands can only be understood if we understand it as part of a racist system. If there was no racism, none of this would have made sense. People could have chosen where they wanted to live and if they had to live somewhere they wanted to, they could have lived a minimum dignified life. This is not the case today. While millions of Euros are given as compensation to companies like Lufthansa that have been profiting from miseries of deportations, no substantial help is given to actual humans. Our capitalism is racist, and we are making it stronger by holding back our resistance.
3. Here in Germany, the fascists haven't yet become the dominant power in the parliament; but we are seeing asylum-seekers who were brought to Germany from Italy by the order of Seehofer only to receive a rejection on their case here and eventually be deported back to their countries. Borderline Europe has recently published a comprehensive report on these notorious actions of "relocation" in which people are chosen according to "cultural profiling" to be brought to Germany. Many activists in Italy and Germany know that only those who can be later deported are brought to Germany. This is of course not something that is seen on the TV. The mainstream media only shows how generous the German government is when they hand-pick some asylum-seekers who were already been rescued in the Mediterranean sea. They never say that all of them, that is 100% of them, get rejection asylum results in Germany and face deportation back to their country. How silly is that? When have we signed up to take part in such scandals?
4. For this past year, what we were afraid of is happening. The government is using the situation caused by the pandemic to push for more deportations and more controversial actions against the will of people. Resistance is essential today and hastily reactions would only allow for more impinging of human rights. We from the No Border Assembly, charge those ugly faces that are profiting from deportations. The actual illegal human is that who criminalizes help and only works to show their face beautiful, while at the same time is signing agreements of violence.
Educate yourself, organize and put up decentralized actions against those masked profiteers.
Let's join our forces and come together to fight, because the fight against Lager must also be a fight for the right to stay.
No Lager, No Border, No Deportation.
No Border Assembly