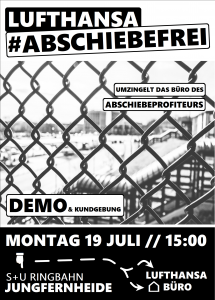 Lufthansa, the biggest deportation profiteer in Germany. Let them not get away with their dirty business. On Monday, 19 July, we will take the 2 entrances of their main Berlin office during the end of their workday. In two officially registered rallies, their employees will have to go through us to get home. Let's be loud and let's be clear: until Lufthansa publicly takes a stand against structural racism and stops their collaboration with the German deportation machine, we will continue to confront them.
When: Monday, 19 July
15:00: Ringbahn (S+U) station Jungfernheide
16:20: rally at Lufthansa's office = Siemensdamm 62
— bring whistles, pots & pans, drums or megaphones. Anything to be as loud as we can —
The campaign Lufthansa #abschiebefrei started last year. After two action days against Lufthansa, the state decided from this year to censor information about which airlines are used for deportations. This shows again that capitalism, the state and racism go hand in hand. A freedom of information request revealed that it is our campaign that was the reason for this censorship. In the words of the government, naming companies used for deportations might give them a bad image in the view of society. Fuck yeah, their profiteering of racist violence and the colonial practice of deportations gives them worse than a bad image. Deportation profiteers do not deserve one second of rest!
In 2019, Lufthansa and their subsidiaries completed the deportation of 5,885 people. That was more than 25% of all deportations from Germany that year. Due to the state's censorship, we do not know the current numbers, but we will continue to assume that Lufthansa is carrying out most deportations until proven otherwise. And let us never forget the names of Aamir Ageeb and Kola Bankole who were both murdered by police on Lufthansa deportation flights. Profiting from deportations is complicity in murder!
At 15:00 we will gather at the Ringbahn station Jungfernheide, and from there we will walk together to the office of Lufthansa (address: Siemensdamm 62, 13627 Berlin). There we will split in two rallies at the only two exits of their premise .
Join us! Deportation profiteers will continue their racist business as long as we let them. Take action, we know where to find them. Force Lufthansa to become #abschiebefrei