FRANCAIS EN BAS / DEUTSCH UNTEN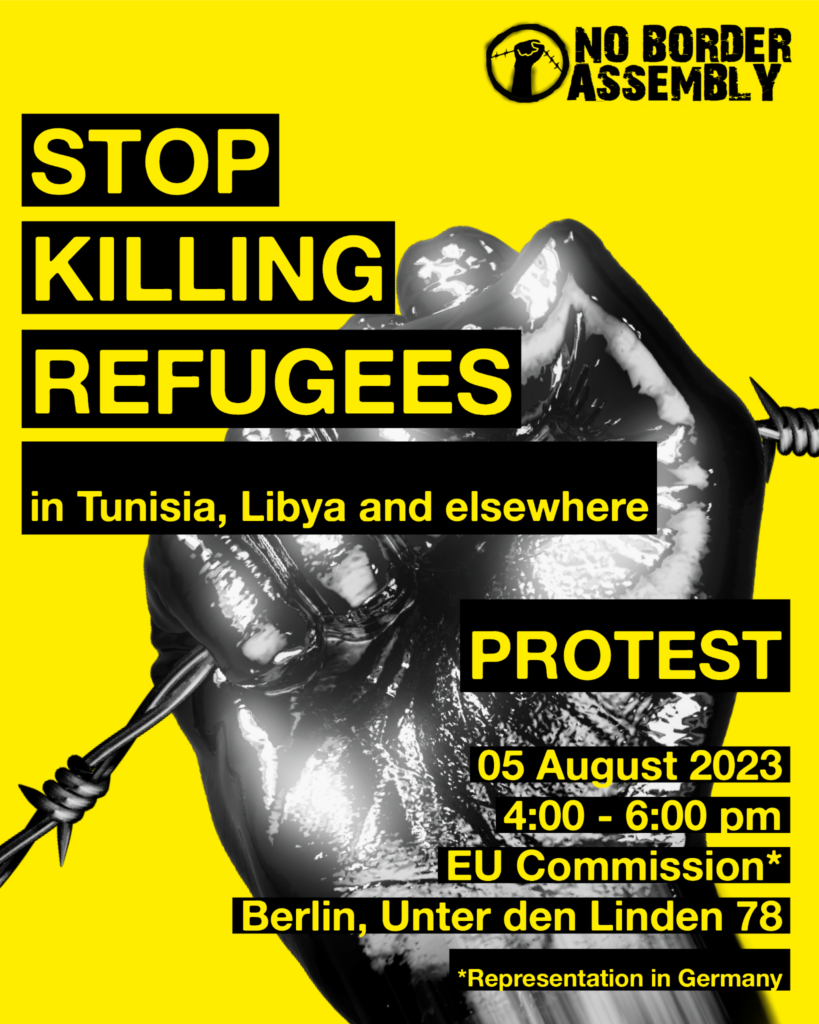 Rally on Saturday, 5 August 2023, 4 p.m.
Representation of the European Commission in Berlin (Unter den Linden 78, 10117 Berlin).
Tunisian authorities have abandoned hundreds of Black people in the desert on the borders with Libya and Algeria in recent weeks. Without food, without water and without protection from 50 degrees Celsius. At least 17 people have died so far as a result of this despicable act, including 30-year-old Fati Dosso and her 6-year-old daughter Marie. The two had previously managed to survive in Libya and were now seeking refuge and protection in Tunisia.
People continue to remain in the desert without shelter, and more deaths are feared. Some shelter seekers have been driven to Libya, where they are equally unsafe.
Instead of criticising this massive violence, EU Commission President von der Leyen made a dirty deal with Tunisia in mid-July: The North African country is to stop people on the move from making their way to Europe by boat. The deal claims to fight smuggling networks and save lives. In reality, however, the EU's aim is to expand Europe's foreclosure regime. More violence against Black people and more deaths will be the result.
The EU is once again trying to turn dictators into Europe's gatekeepers. In doing so, it is making itself an accomplice to the massive violence against people seeking protection in Tunisia. The deal is also at the expense of Tunisian civil society, which is trying to oppose the autocratic turn under Prime Minister Kaïs Saïed.
Some of us have relatives and friends on the ground. Others of us share with these people the experience of flight, the experience of border violence and of anti-Black racism. Others are in solidarity with people on the move. We are all united in our rejection of the EU border regime and anti-Black racism.
We, No Border Assembly, invite all people in solidarity to protest with us in front of the European Commission Representation in Berlin. We demand:
Stop the killing of Black people in Tunisia, Libya, anywhere!
No EU deals at the expense of people seeking protection! No EU-Tunisia deal!
No funding of dictators to outsource border controls!
No funding of Tunisian and so-called Libyan coast guards!
Safe escape routes and an end to the EU's isolationist regime!
FRANCAIS
Stop killing refugees ! En Tunisie, Libye et ailleurs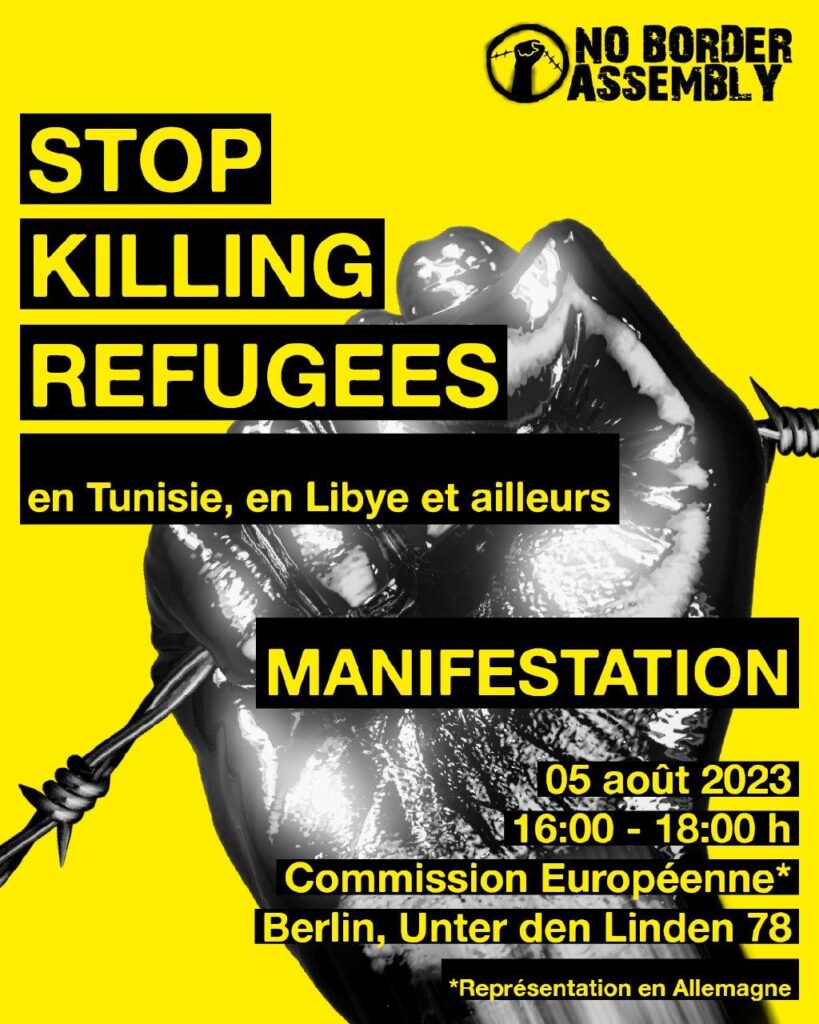 Manifestation le samedi 5 août 2023 à 16h.
Représentation de la Commission européenne à Berlin (Unter den Linden 78, 10117 Berlin).

Ces dernières semaines, les autorités tunisiennes ont abandonné des centaines de Noir.e.s dans le désert, aux frontières avec la Libye et l'Algérie. Sans nourriture, sans eau et sans protection contre la chaleur mortelle (50 degrés Celsius). Au moins 17 personnes sont mortes jusqu'à présent à cause de cet acte ignoble, dont Fati Dosso, 30 ans, et sa fille Marie, 6 ans. Les deux avaient auparavant réussi à survivre en Libye et cherchaient refuge et protection en Tunisie.

Des personnes continuent à attendre dans le désert sans protection et d'autres morts sont à craindre. Certaines personnes en quête de protection ont été poussées vers la Libye, où elles ne sont pas plus en sécurité.

Au lieu de critiquer cette violence massive, la présidente de la Commission européenne von der Leyen a conclu mi-juillet un sale accord avec la Tunisie : Le pays nord-africain doit dissuader les people on the move de se mettre en route vers l'Europe en bateau. L'accord prétend vouloir lutter contre les réseaux de passeurs et sauver des vies. En réalité, il s'agit pour l'UE de renforcer le régime de cloisonnement européen. Il en résultera plus de violence contre les Noirs et plus de morts.
L'UE tente une fois de plus d'ériger des dictateurs en portiers de l'Europe. Elle se rend ainsi complice des violences massives contre les personnes en quête de protection en Tunisie. L'accord se fait également au détriment de la société civile tunisienne, qui tente de s'opposer au tournant autocratique du Premier ministre Kaïs Saïed.
Certain.e.s d'entre nous ont de la famille et des ami.e.s sur place. D'autres d'entre nous partagent avec ces personnes l'expérience de la fuite, l'expérience de la violence frontaliére et du racisme anti-Noir. D'autres encore sont solidaires des people on the move. Nous sommes tou.t.e.s uni.e.s dans notre rejet du régime de cloisonnement ​​​​​​​de l'UE et du racisme anti-Noir.
Nous, No Border Assembly, invitons toutes les personnes solidaires à se joindre à nous pour protester devant la représentation de la Commission européenne à Berlin. Nous demandons :
Stop au massacre des Noirs en Tunisie, en Libye et ailleurs !
Pas de deals de l'UE au détriment des personnes en quête de protection ! Pas de deal UE-Tunisie !
Pas de financement de dictateurs pour externaliser les contrôles aux frontières !
Pas de financement des garde-côtes tunisiens et soi-disant libyens !
Ouverture des voies de fuite sûres et la fin du régime de cloisonnement de l'UE !
DEUTSCH
Stop killing refugees! In Tunesien, Libyen und anderswo
Kundgebung am Samstag, den 5. August 2023, 16 Uhr
Vertretung der Europäischen Kommission in Berlin (Unter den Linden 78, 10117 Berlin)
Tunesische Behörden haben in den letzten Wochen Hunderte Schwarze Menschen in der Wüste an den Grenzen zu Libyen und Algerien ausgesetzt. Ohne Nahrung, ohne Wasser und ohne Schutz vor tödlicher Hitze (50 Grad Celsius). Mindestens 17 Menschen sind durch diese verabscheuungswürdige Tat bisher ums Leben gekommen, darunter die 30-jährige Fati Dosso und ihre sechsjährige Tochter Marie. Die Beiden hatten sich zuvor in Libyen durchgeschlagen und in Tunesien Zuflucht gesucht.
Weiterhin harren Menschen ohne Schutz in der Wüste aus, weitere Tote sind zu befürchten. Einige Schutzsuchende wurden nach Libyen getrieben, wo sie ebenso wenig in Sicherheit sind.
Anstatt diese massive Gewalt zu kritisieren, hat EU-Kommissionspräsidentin von der Leyen Mitte Juli einen dreckigen Deal mit Tunesien geschlossen: Das nordafrikanische Land soll people on the move davon abhalten, sich mit Booten auf den Weg nach Europa zu machen. Der Deal gibt vor, Schleusernetzwerke bekämpfen und Leben retten zu wollen. Tatsächlich geht es der EU jedoch um den Ausbau des europäischen Abschottungsregimes. Mehr Gewalt gegen Schwarze Menschen und mehr Tote werden die Folge sein.
Die EU versucht einmal mehr, Diktatoren zu Türstehern Europas aufzubauen. Damit macht sie sich zur Komplizin der massiven Gewalt gegen Schutzsuchende in Tunesien. Der Deal geht auch auf Kosten der tunesischen Zivilgesellschaft, die sich der autokratischen Wende unter Ministerpräsident Kaïs Saïed entgegenzustellen versucht.
Einige von uns haben Verwandte und Freund*innen vor Ort. Andere von uns teilen mit diesen Menschen die Erfahrung der Flucht, der Grenzgewalt und des anti-Schwarzen Rassismus. Wieder andere sind solidarisch mit people on the move. Wir alle sind geeint in unserer Ablehnung des EU-Abschottungsregimes und des anti-Schwarzen Rassismus.
Wir, No Border Assembly, laden alle solidarischen Menschen ein, mit uns vor der Vertretung der Europäischen Kommission in Berlin zu protestieren. Wir fordern:
Stoppt das Töten von Schwarzen Menschen in Tunesien, Libyen und anderswo!
Keine EU-Deals auf Kosten von Schutzsuchenden! Kein EU-Tunesien-Deal!
Keine Finanzierung von Diktatoren zur Auslagerung von Grenzkontrollen!
Keine Finanzierung der tunesischen und sog. libyschen Küstenwachen!
Öffnung sicherer Fluchtwege und ein Ende des EU-Abschottungsregimes!