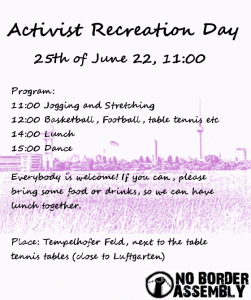 Dear comrades and activists,
the No Border Assembly is organising for the first time a recreation day for activists. Therefore, we have the honour to invite you to take part in sportive activities on Saturday, 25th of June from 11-17:00 at Tempelhofer Feld (close to the table tennis tables).
We want to have lunch together, so you are very welcome to bring some food or drinks. And if you have badminton rackets, table tennis paddles, a frisbee or something else you would like to play, please bring it. Also, invite your friends and comrades!
We are looking forward to see you!
—
Chers camarades et activistes,
No Border Assembly organise pour la première fois une journée de récréation pour les activistes. C'est pourquoi nous avons l'honneur de vous inviter à participer à des activités sportives le samedi 25 juin de 11 à 17h00 au Tempelhofer Feld (près des tables de ping-pong)
Nous voulons déjeuner ensemble, vous êtes donc les b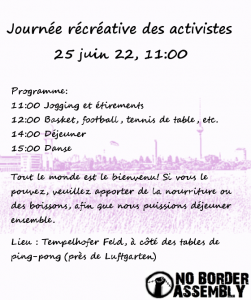 ienvenus et veuillez apporter de la nourriture ou des boissons. Et si vous avez des raquettes de badminton, des raquettes de tennis de table, un frisbee ou autre chose que vous aimeriez jouer, apportez-le. Invitez également vos amis et camarades !
Nous sommes impatients de vous voir !