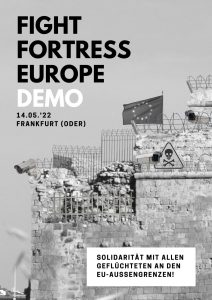 INTERNATIONAL DEMONSTRATION
on May 14th, 12:00
in Frankfurt (Oder)
Call DE/ENG/FR/FS/POL/ARB/
Poster
Route
Participants
FIGHT FORTRESS EUROPE – Solidarity with ALL refugees at the EU external borders
Don't forget the people at the EU external borders – our looking away kills!
Images that reach us from the EU external borders – if they still reach us at these times – are more brutal than ever. Human suffering, that the European Union not only allows, but actively helps to produce and maintain.
People on the Polish-Belarusian border are held in the cold in makeshift tent camps or even left to fend for themselves in the middle of the forest. They are exposed to the brutal violence of the border guards, who beat them, take away their clothes, food and cell phones and leave them to freeze and starve to death in the forest. In the camps, they are held in inhumane, prison-like conditions and prevented from entering the European Union. The militarization of the Polish-Belarusian border has created another death strip on an external EU border. Illegal push-backs and denial of basic supplies force people to hold out in the border area and have already cost the lives of over 30 people.
It should not be forgotten that every person who died trying to cross the border is not a coincidence, but a racist political decision. The sealing off of Fortress Europe is being pushed even further by Poland with the construction of a wall through the Białowieża National Park. The destruction of Europe's last lowland forest is not only a human but also an ecological catastrophe, and this in the middle of the climate crisis.
Behind this is a policy whose greatest goal is to maintain our reality of life, which is built on racist, exploitative and oppressive mechanisms. We deeply reject this inhuman policy. And we demand solidarity with ALL refugees in the world!
With a view to the Ukraine very topically it is shown to us: solidarity with people on the run, the will to take in these people & to adapt the admission policy for this, can lead to humane & solidary measures that seemed unthinkable for years.
That it is now possible to show solidarity with fleeing people is enormously important & right! And yet it shows that there is no unrestricted solidarity with people on the run. There is a differentiation between white, European refugees and non-white, migrant refugees. This dishonest and hypocritical practice must be overcome, we stand up for solidarity with ALL refugees and fleeing people.
A fast solidary and uncomplicated admission policy, a change in the migration and border policy is long overdue for all people on the run – no matter with which passport or from which country they come here! We demand open borders, protection and freedom of movement for all people!
A different way of dealing with people on the run IS POSSIBLE, if only the political will is!
We believe that a world without racist constructs of borders and states is possible. But we believe that we have to take this change into our own hands. Let's stand together for a solidary and open world!
Come to the demo on Saturday, May 14th at 12pm in Frankfurt (Oder), be loud with us for a change towards a just world!
Demo alliance "Fight Fortress Europe" (Borderline Europe, No Border Assembly, Seebrücke Jena and Potsdam)
---
Collective departure from Berlin-Ostkreuz with group tickets on 14 May at 10:39 (arrival: 11:27).