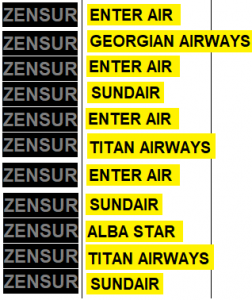 Since 2020, the German government is censoring which airline companies are used for deportations. Although this information has always been given before in parliamentary requests, a recent parliamentary information request (page 9) by Die Linke received as answer: "Publication of the airlines […] may have a negative impact on the public's perception of these airlines. Publicly naming the airlines that offer deportation flights risks exposing these companies to public criticism and, as a result, making them unavailable to transport persons who are obliged to leave the country to their home countries" (page 9). We, as No Border Assembly, not only fiercely reject this reasoning, we are also breaking their censorship.
Today, we publish which airline companies have done charter-deportations in 2020. With the help of flightradar tracking, it is possible for anyone to see the movement of any airplane. We have tracked all European charter airlines and based on patterns of how charter-deportations usually are done, have come to an almost complete list of which airline company has done which deportation in 2020. There were 112 mass-deportation charterflights in 2020 (seite 21). 112 times that a whole airplane was rented for the specific purpose of deporting people. 112 times where throughout Germany, midnight police raids happened and deportation prisons were filled. We have tracked for 111 out of 112 flights which company has been paid to perpetrate this racist violence.
So which airline companies feature on this list that the government is so desperate to hide? These were the biggest charter-deportation profiteers in Germany in 2020:
Enter Air – 28 charterflights
Sundair – 17 charterflights
Privilege Style – 13 charterflights
Titan Airways – 11 charterflights
Georgian Airways – 11 charterflights
Alba Star – 9 charterflights
Corendon Airlines – 7 charterflights
Danish Air Transport – 5 charterflights
-> Edited and uncensored version of the government's list of charter-deportations
Enter Air has been Germany's favorite deportation airline. The list of countries they have deported to in 2020 and so far in 2021: Ghana, Ukraine, Albania, Moldova, Libanon, Senegal, Georgia, Serbia, North-Macedonia, Iraq, Kosovo. Enter Air's offices are in Poland and the company's main shareholder is a Malta-registered investment fund. The second biggest shareholder is the huge international finance company ING.
The biggest German-based charter-deportation profiteer in 2020 was Sundair, owned and run by Marcos Rossello. Sundair in 2020 & 2021 has deported to Tunesia, Azerbaijan, Lebanon, Albania, Moldova, Bosnia-Herzegovina, Ukraine, and Armenia. Their planes usually fly Germans to their holiday destinations in Mallorca and Greece. It would be interesting to know what holiday makers think about Sundair's complicity in deportations.
Especially worth mentioning is Privilege Style. Since 2020, all deportation charter flights to Afghanistan from Germany happened on a plane from this Spanish charter airline. Privilege Style prides itself for being the charter airline of last resort: if no other company takes the job, they will. That includes deporting people to war zones during a pandemic. Privilege Style's fee for a charter-deportation to Afghanistan? Around 340,000 EUR. Besides deportation flights, Privilege Style also provides transport for football players (especially the Spanish football teams FC Sevilla and Atletico Madrid). These football clubs supposedly take a stand against racism, but see no problem in using the services of a notorious deportation profiteer. Privilege Style has done all deportation flights to Afghanistan since 2020, but they have also done deportations to Nigeria, Moldova, Serbia, North-Macedonia, Pakistan, Albania, Kosovo, and Bangladesh.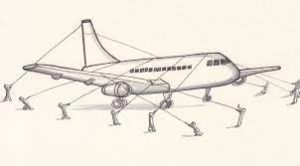 No Border Assembly tracked more charter-deportations than the 112 that were included in the list published in the Kleine Anfrage. Die Linke submitted a Nachfrage questioning why they were not included. The answer was that their list only included charter-deportations of 5 or more people deported. The 2 additional charter-deportations we reported had only 2 people on board. 12.11.2020 to Nigeria and 21.12.2020 to Ghana.
Also not included in the answer to the Kleine Anfrage were 23 charter-deportations in 2020 from Karlsruhe Baden-Baden airport. The Nachfrage revealed that these were not included, because these deportation flights were organised by Baden-Württemberg without participation by the Bundespolizei. No Border Assembly also tracked these 23 flights, which were all done with the airline Bulgaria Air. The special agreement between Bulgaria Air and Baden-Württemberg still needs to be revealed. Previous Kleine Anfrage has revealed that on these deportation flight by Bulgaria Air there were no German police forces on board, but private security from Bulgaria Air. From Karlsruhe Baden-Baden, Bulgaria Air has deported to Albania, Georgia, Serbia, North-Macedonia, Kosovo, Bosnia-Herzegovina and Montenegro.
-> No Border Assembly's Tracking Results: Sammelabschiebungen 2020
We demand full transparency from the state: which deportations happen, when and which airlines profit from this racist system. Their fear of protest is no reason to censor this information. The fact that they censor this shows that our protest is working. And that we break their censorship means we can protest against these companies more fierce than ever! Let us all demand that these airline companies take a clear and public stand against racism and stop their collaboration with deportations!