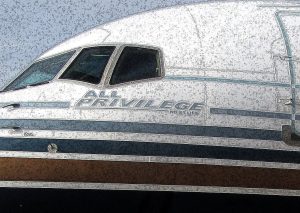 Today we are calling to target Privilege Style, the Spanish charter-airline whose planes have done every of the last 9 charter-deportations from Germany to Afghanistan. This company profits from racism and should not be allowed one second of rest! Check here some tips on how to take online action today within only 10 minutes:
Since on Saturday we will take the streets, let us all spend Friday taking over all of Privilege Style's online spaces!
– Swarm their Twitter, Facebook and Instagram pages!
– Email them!
– Leave messages in their online contact forms!
– Contact their other clients: Spanish footbal clubs Sevilla FC, Atletico Madrid, Athletic Bilbao, Getafe, Villareal, RC Celta and FC Porto
The next deportation flight from Germany to Afghanistan is planned on Tuesday, 8 June and it is very likely that Privilege Style will provide their plane again. The average fee that Privilege Style collects for deportation flights to Afghanistan? 340.000 EUR per flight! And while we should rage against every single deportation, let us all remember that in this case these are deportations to a warzone in the middle of a pandemic!
This airline is #AllPrivilegeNoStyle !! Let them feel digitally bombarded and shame them online any means necessary!
Bundesweiter Aktionstag gegen Abschiebungen nach Afghanistan | Sontag 5 Juni |
Berlin | Kundgebung | 14 Uhr | Brandenburger Tor |
Erfurt | Kundgebung | 12 Uhr | Domplatz |
Göttingen | Kundgebung | 13 Uhr |
Kaufbeuren | Banner- und Protestdrachen an der evangelischen Kirche und in der Stadt verteilt
Köln | Kundgebung | 13 Uhr | Rudolfsplatz |
Leipzig | Kundgebung | 16 Uhr | Innenstadt |
Lübeck | Audiobeiträge | 11 Uhr | Am Brink und Kundgebung | 13 Uhr | Auf dem Schrangen
München | Demonstration | 19 Uhr | Auftakt: Karlsplatz/Stachus |
Nürnberg | Plakataktion zum Mitmachen | 10 Uhr | Z-Bau
Saarbrücken | Kundgebung | 15 Uhr | Tbilisser Platz |