🟣 Rally on Tuesday, 7 March 2023 @12:30
🟣 Location: Messe-Berlin Eingang Süd / Jafféstraße, 14055
Organised by Abolish Frontex & No Border Assembly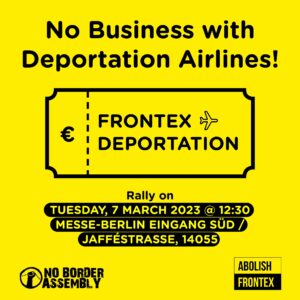 A list of around 13 charter-airlines are collaborating with the German state to enact more than 200 mass deportation charter flights each year. Multiple times each week, this form of racist police violence takes place: police storm people's homes around Germany during midnight deportation raids in an attempt to fill entire planes, which are specifically rented for mass deportation. These airlines pocket the cash, which comes from the budgets of FRONTEX, EU's agency of border violence. Even if the state is the primary perpetrator of deportations, let us not be silent about those that profit from this! We condemn both the state and the dirty profiteers!
This March 7, 2023 is the first day of the world's biggest international tourism fair, taking place in Messe-Berlin. It will gather more than 100.000 people in the tourism business, including most of the usual clients of these charter airlines. We will be loud and we will stand fiercely at the main entrance of this business event. Let these people go home and remember the name of each of these deportation airlines. Let the colonial continuities be clear in the fact that these same planes transport Europeans to their holiday one day, but deport people under threat of police violence the next. Under capitalism, the only language that corporations speak is the fear of losing profits. Our message is clear: stop collaborating with deportations or start to lose business with your other clients. No more silence about deportation flights! No business with racism! Stop Deportation!
Top 6 worst Deportation Charter-Airlines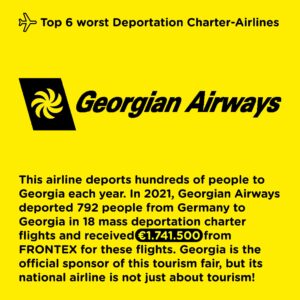 Georgian Airways This airline deports hundreds of people to Georgia each year. In 2021, Georgian Airways deported 792 people from Germany to Georgia in 18 mass deportation charterflights and received €1.741.500 from FRONTEX for these flights. Georgia is the official sponsor of this tourism fair, but its national airline is not just about tourism!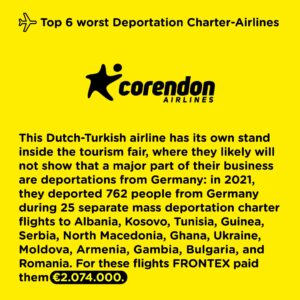 Corendon Airlines This Dutch-Turkish airline has its own stand inside the tourism fair, where they likely will not show that a major part of their business are deportations from Germany: in 2021, they deported 762 people from Germany during 25 separate mass deportation charterflights to Albania, Kosovo, Tunisia, Guinea, Serbia, North Macedonia, Ghana, Ukraine, Moldova, Armenia, Gambia, Bulgaria, and Romania. For these flights FRONTEX paid them €2.074.000.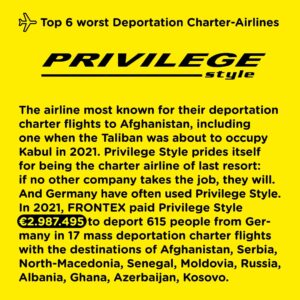 Privilege Style The airline most known for their deportation charterflights to Afghanistan, including one when the Taliban was about to occupy Kabul in 2021. Privilege Style prides itself for being the charter airline of last resort: if no other company takes the job, they will. And Germany have often used Privilege Style. In 2021, FRONTEX paid Privilege Style €2.987.495 to deport 615 people from Germany in 17 mass deportation charterflights with the destinations of Afghanistan, Serbia, North-Macedonia, Senegal, Moldovia, Russia, Albania, Ghana, Azerbaijan, Kosovo.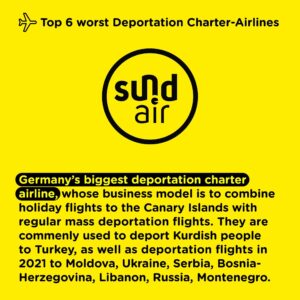 Sundair Germany's biggest deportation charter airline, whose business model is to combine holiday flights to the Canary Islands with regular mass deportation flights. They are commenly used to deport Kurdish people to Turkey, as well as deportation flights in 2021 to Moldova, Ukraine, Serbia, Bosnia-Herzegovina, Libanon, Russia, Montenegro.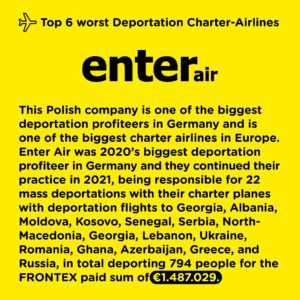 Enter Air This Polish company is one of the biggest deportation profiteers in Germany and is one of the biggest charter airlines in Europe. Enter Air was 2020's biggest deportation profiteer in Germany and they continued their practice in 2021, being responsible for 22 mass deportations with their charter planes with deportation flights to Georgia, Albania, Moldova, Kosovo, Senegal, Serbia, North-Macedonia, Georgia, Lebanon, Ukraine, Romania, Ghana, Azerbaijan, Greece, and Russia, in total deporting 794 people for the FRONTEX paid sum of €1.487.029.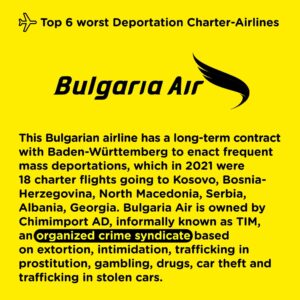 Bulgaria Air This Bulgarian airline has a long-term contract with Baden-Württemberg to enact frequent mass deportations, which in 2021 were 18 charter flights going to Kosovo, Bosnia-Herzegovina, North Macedonia, Serbia, Albania, Georgia. Bulgaria Air is owned by Chimimport AD, informally known as TIM, an organized crime syndicate based on extortion, intimidation, trafficking in prostitution, gambling, drugs, car theft and trafficking in stolen cars.