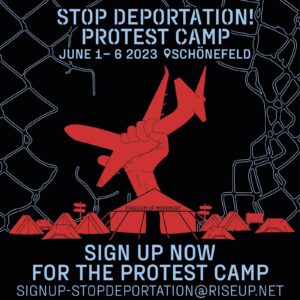 Join the Protest Camp against Deportations!
At the Berlin-Brandenburg Airport, the government plans to build a massive deportation prison. Already now, mass deportations via charter flights silently take place there every month. We want to break the silence and are organizing the "Stop Deportation! Protest Camp" close to the BER Airport from June 1-6 2023.
The Camp will be a place for:
Workshops & Skillsharing
So many people and groups are already doing great work to fight and resist deportations and structural racism. Let's share our knowledge and learn from each other.
Raising Awareness
The camp will show presence in the BER/ Schönefeld area and raise awareness about deportations, deportation detention and the perspectives of affected people.
Connecting Movements
We believe it is necessary to build a broader movement against deportations and for the right to stay. At the camp we can get to know each other and connect.
Join the Camp from June 1-6 2023! To make our planning easier, please sign up for the camp at signup-stopdeportation@riseup.net (not mandatory, it is also possible to join spontaneously). In the sign-up email, please let us know how many people you will be, if you are organized in a group, if you want to contribute something to the camp program, if you can help us with translation or need translation for our workshops, or if you need support with anything else.
WE ARE HERE, AND WE WILL FIGHT! FREEDOM OF MOVEMENT IS EVERYBODY'S RIGHT!