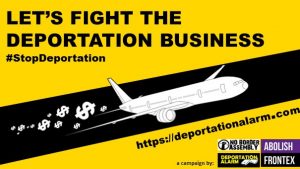 📣 DAY OF ACTION against DEPORTATION AIRLINES 📣
—-⌚️ Wednesday, 20 July ⌚️—-
European airlines are making profits with deportation charterflights from Germany. We will call out their racist deportation business until they #StopDeportation. Join the online action!
Use our Action Toolkit & Sharepics : https://cloud.balkanbruecke.org/s/rFAPPmqCtoGngDk
More info? Check the new website of Deportation Alarm ➡️ https://deportationalarm.com/
⚫️ uncensored data identifying the names of deportation airlines, so far kept secret by the german government
⚫️ detailed info on 206 deportation charterflights from Germany in 2021
Let's stop deportation business!