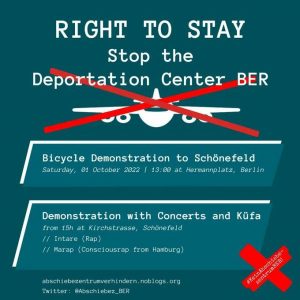 13:00 Bike demo to Schönefeld – Starting point: Hermannplatz, 10967 Berlin
15:00 Rally with concerts & Küfa – Place: Kirchstraße, 12529 Schönefeld (BER Airport T5)
Germany is turning the Berlin airport terminal 5 into a Deportation Center, including two prison buildings with a capacity to imprison 120 people. The plan is to start construction of this new center in the next months and aim to have it in operation from 2025. We, as "Abschiebezentrum BER Verhindern" call on everyone to loudly and fiercely take the streets and block with us this racist and neo-colonial plan! Therefore you are invited to join us on the street during a Bicycle Demo starting at Hermannplatz 13:00 going to Schönefeld, next to the planned construction site. From 15:00 until 19:00 we will protest in Schönefeld with a Küfa, Concerts and Speeches.
📣 CONCERTS 📣
There will be live performences by:
17:00-18:00 Intare (Rap)
18:00-19:00 Marap (Consciousrap from Hamburg)
🍽️ SOLI-KITCHEN 🍽️ & 🧃 SOLI-DRINKS 🧃
There will be vegan food for dinner by Kiezkantine
Some non-alcoholic drinks will be available.
🚲 BIKE DEMO 🚲
Anyone who'd like to bike from Berlin to there: we start from Hermannplatz at 13:00 and follow a registered route together in a loud bike demo.
🔎 POLITICAL TOURS 🔎
There will be short, small-group walks from the protest to politically relevant location nearby, such as the current deportation prison, the usual starting point of charter-deportations, etc.
💥 PROTEST AGAINST DEPORTATION 💥
Let's remember this is not a party! It's placed next to a current deportation prison. We will be loud and angry: let's use the space to get to know the area and each other, so we can be strong in the upcoming years of resistance.
No Border! No Nation! Stop Deportation Center BER!
More info: https://abschiebezentrumverhindern.noblogs.org/