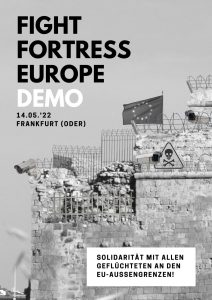 INTERNATIONAL DEMONSTRATION
on May 14th, 12:00
in Frankfurt (Oder)
Call DE/ENG/FR/FS/POL/ARB/
Poster
Route
Participants
FIGHT FORTRESS EUROPE – Solidarity with ALL refugees at the EU external borders
Don't forget the people at the EU external borders – our looking away kills!
Images that reach us from the EU external borders – if they still reach us at these times – are more brutal than ever. Human suffering, that the European Union not only allows, but actively helps to produce and maintain.
People on the Polish-Belarusian border are held in the cold in makeshift tent camps or even left to fend for themselves in the middle of the forest. They are exposed to the brutal violence of the border guards, who beat them, take away their clothes, food and cell phones and leave them to freeze and starve to death in the forest. In the camps, they are held in inhumane, prison-like conditions and prevented from entering the European Union. The militarization of the Polish-Belarusian border has created another death strip on an external EU border. Illegal push-backs and denial of basic supplies force people to hold out in the border area and have already cost the lives of over 30 people.
Continue reading "International Demonstration on May 14th in Frankfurt (Oder): FIGHT FORTRESS EUROPE – Solidarity with ALL refugees at the EU external borders"