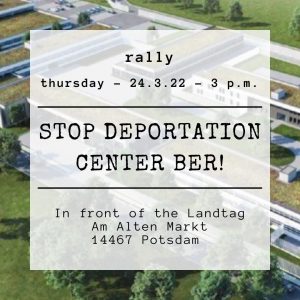 🕑 Thursday, 24.3 um 15:00
📌 Landtag Brandenburg (Am Alten Markt, Potsdam)
Germany is planning a new deportation center at BER airport. This Thursday, these plans will be discussed in Brandenburg parliament in Potsdam. The alliance "Abschiebezentrum BER verhindern" calls to gather at the parliament building during their session and raise our voice: Stop the construction of this deportation center!